News Archive
TRAC Community Run/Walk
The 18th Annual TRAC Community Run/Walk will take place on Sunday, May 28, 2023 at Mother Margaret Mary Catholic High School, behind the Terwillegar Rec Centre.
The event includes 10K, 5K, 3K events plus a 1K Kids Fun Run!
For more information or to register, please visit the Running Room website. Registration closes on Thursday, May 25th.
I'm Too Big for It Sale - April 2023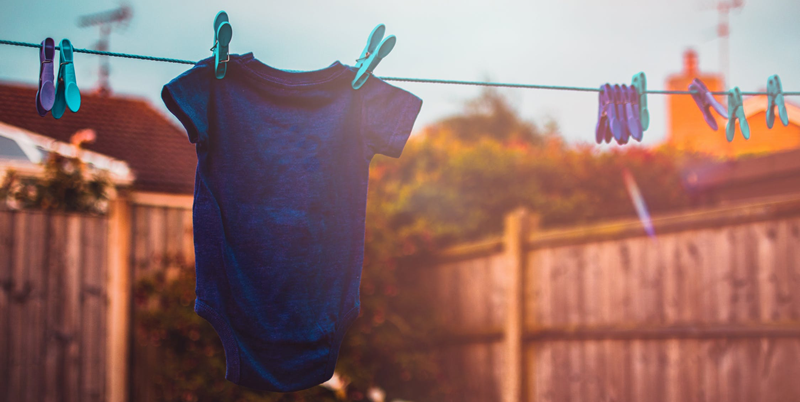 Come find some great deals at the I'm Too Big For It Sale! Over 40 tables of gently-used clothes, toys, books and all things kid-related.
When: Saturday, April 15, 2023
Time: 10AM - 1PM
Where: Terwillegar Community Church (1751 Town Centre Blvd)
Adminission is free to shoppers. Please bring cash to the event as most vendors will only take cash.
Registration for table rentals is available here.
Family Day 2023
Terwillegar Community League's Family Day is back!
We will be doing Pizza and a Movie at the Terwillegar Community Church for your enjoyment!
This event is free. Movie to be announced closer to the event date.
Follow the event or indicate your interest / attendance via Facebook.
Snow Valley Ski Night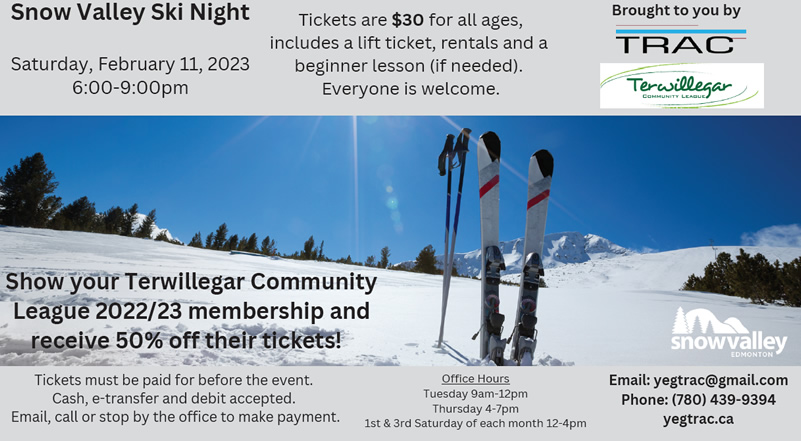 TRAC is offering a Ski Night to southwest families on Saturday, February 11, 2022 from 6 - 9 pm
Tickets are $30 per person, including lift ticket, rentals and a beginner lesson if needed. Everyone is welcome.
Tickets can be purchased by contacting the TRAC office at yegtrac@gmail.com or (780) 439-9394. Payments can be made in person or by email transfer, and tickets will be available for pick up at the event.
Show your Terwillegar Community League 2022/2023 membership and receive 50% off your tickets!
2022 Holiday Lights Contest

The Terwillegar Holiday Lights Contest is Back!
Send nominations to: tclpresident@terwillegar.org by December 21st.
Thanks to everyone who participates!
Recent Events
May 28, 2023: TRAC Community Run/Walk
May 17, 2023: Farmer's Market
Apr 15, 2023: I'm Too Big for It Sale
Feb 20, 2023: Family Day 2023
Feb 11, 2023: Snow Valley Ski Night
Jan 9, 2023: TCL AGM 2023
Dec 17, 2022: Snow Valley Ski Night
Dec 17, 2022: TCL Holiday Spectacular 2022
Dec 3, 2022: TCL's Holiday Craft Sale 
Nov 27, 2022: WEM Waterpark Event
Sep 24, 2022: I'm Too Big for It Sale
Sep 8, 2022: Casino Fundraiser
Sep 8, 2022: Starlight Casino Fundraiser 
Aug 20, 2022: Summer Movie Night
Aug 13, 2022: Summer Carnival
Jul 23, 2022: Summer Movie Night
Jul 1, 2022: Canada Day
Jun 25, 2022: Summer Movie Night
Jun 11, 2022: Community Garage Sale 2022
Jun 11, 2022: Community-Wide Garage Sale!