Playgrounds
There are a number of playgrounds that were developed due to fundraising efforts by the Terwillegar Community League. We thank all the volunteers and donors who made them possible!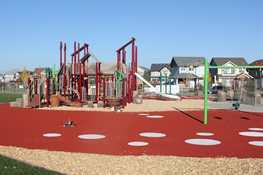 Mactaggart Park: located at Nellie Carlson School on Mactaggart Drive
South Terwillegar Playground & Splash Park: located in the park near the intersection of Towne Centre Blvd and South Terwillegar Drive
TSNAP: Shared by Esther Starkman and Monsignor William Irwin schools at the intersection of Terwillegar Common and Taylor Green
Magrath Park: located at the intersection of Magrath Blvd and Magrath Rd
Tomlinson Common: located on the north side of Tomlinson Common
Sutter Place: located at the east end of Sutter Place
Donations
Donations for other development projects are greatly appreciated. If you would like to make a donation in support of the development of Terwillegar Community Parks, please download and complete this form. All donations of $20 or more will receive a tax deductable receipt from the City of Edmonton in February. Thank you!
Seasonal Fun
Summer: Splash Park
Winter: Tobagganing
The ravine park along Towne Centre Blvd
Small slopes along the storm water pond south of Tomlinson Park
The park in South Terwillegar along South Terwillegar Dr.
Haddow Park on Haddow Dr. (west of Terwillegar Dr.)
Ramsay Park on Riverbend Rd. and 43 Ave.
You can also check out some of the city maintained toboggan hills. These include:
Emily Murphy Park on Emily Murphy Park Rd. and Groat Rd
Gallagher Park on 97 Ave. and 92 St.
Government House Park on Groat Rd. and River Valley Rd
Castledowns Park at 11520 - 153 Ave.
Rundle Park - ACT Hill at 2903-113 Ave.
Rundle Park - Walton's Mountain at 2903-113 Ave.