News Archive
TCL Holiday Lights Contest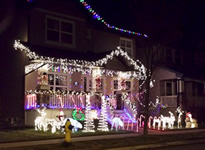 We will be recognizing homes that bring some great holiday cheer to the neighborhood. If you would like to participate or be an area captain, we will be handing out prizes followed by celebrations at Famoso on December 17th.
Please email our program director, Marc Lachance, directly, or post in the thread he started on our Facebook page.
TCL Annual General Meeting
The 2015 AGM will be held at 7:00 pm on Thursday, November 26th at the Terwillegar Community Church (1751 Towne Centre Blvd). Everyone is welcome!
Thank you, Casino Volunteers!
Thank you to everyone who volunteered their time to help out with our casino in June. Your help was greatly appreciated!
Welcome to the Terwillegar Community League
You have reached the online home of the Terwillegar Community League - an area of Edmonton from 23rd Avenue to Anthony Henday Drive, between Terwillegar Drive and Blackmud Creek.
The mission of our community league is twofold: to encourage a safe, friendly, and active neighbourhood by providing programs and services that promote family and community; and to act as an advocate by representing the needs and interests of the members of community. Our volunteers work hard planning community-wide social events, leading Neighbourhood Watch and other committees, running a community garden, communicating with local governing bodies to arrange benefits at local recreation centres, fundraising for parks and playgrounds to provide our littlest community members with places to run, climb and play with friends.
Playground Grand Opening!
Who's ready to play in the new playground in South Terwillegar?! We are happy to announce that the playground beside the splash park will be open with a Grand Opening Celebration this Sunday October 4 from 1-3! Please join us in the field (located on South Terwillegar Drive and the end of Towne Center Blvd) for cake and check out the newest playground in our community!
Recent Events
Dec 31 2018: New Year's Eve Party & Fireworks
Dec 15 2018: TCL Holiday Spectacular
Dec 11 2018: TCL AGM
Dec 8 2018: Holiday Sale 2018
Dec 1 2018: Terwillegar Drive Expressway Plan
Nov 28 2018: Public Drop In - Terwillegar Expressway
Oct 31 2018: Halloween Fireworks 2018
Sep 22 2018: I'm Too Big For It Sale - Sept 2018
Sep 13 2018: Famoso Fundraiser
Aug 25 2018: TCL 8th Annual Summer Carnival
Aug 18 2018: Outdoor Movie - Avengers: Infinity War
Aug 16 2018: Famoso Fundraiser
Jul 28 2018: Outdoor Movie Night: Pitch Perfect 3
Jul 7 2018: Outdoor Movie Night: July 2018
Jul 1 2018: Canada Day 2018
Jun 23 2018: Outdoor Movie Night: TBD
May 4 2018: Outdoor Movie Night: The Last Jedi
Apr 21 2018: I'm Too Big For It Sale
Feb 19 2018: Family Day 2018