News Archive
Halloween Fireworks 2018

Join us in Tomlinson Park at 8 pm on October 31st for the TCL Annual Halloween Fireworks Display!
We can't wait to see all your costumes!
I'm Too Big For It Sale - Sept 2018
The TCL Semi-Annual I'm Too Big For It Sale is back!
When: Saturday, September 22, 2018 from 10 am - 1 pm
Where: Terwillegar Community Church – 1751 Towne Centre Blvd.
Tables are still available. To get a table please complete and submit a vendor application. View the application for more details and contact information.
Famoso Fundraiser - Aug 16 & Sept 13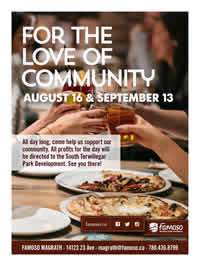 On Thursday, August 16th & Thursday, September 13th Famoso will once again be supporting our wonderful community.
All day long, come help us support our community. All profits for the day will be directed to the South Terwillegar Park Development. See you there!
TCL 8th Annual Summer Carnival
Our annual fundraiser for the development of South Terwillegar Park! This event will feature a petting zoo, soccer events, prizes, balloon twisters, face painting, music, food, bouncers, games and glitter tattoos.
Date: Aug 25 2018
Time: 11 am - 3 pm
Location: South Terwillegar Park
Twilight Outdoor Movies 2018
Enjoy an outdoor movie in South Terwillegar Spray Park!
Movies will be held on:
Saturday, June 23
Saturday, July 7 (Jumanji: Welcome to the Jungle)
Saturday, July 28 (Pitch Perfect 3)
Saturday, August 18 (Avengers: Infinity War)
Check back for information about each movie. Films begin at sunset. BYO seating and bug repellent, and please dress (warmly) for the weather.
Recent Events
Feb 17 2020: Family Day 2020
Dec 31 2019: New Year's Eve Celebration
Dec 14 2019: TCL Holiday Spectacular 2019
Dec 7 2019: Great Canadian Winter Family Fun Festival
Dec 5 2019: Terwillegar Community League AGM
Nov 23 2019: TCL Holiday Sale 2019
Sep 21 2019: I'm Too Big for It Sale - Sept 2019
Sep 8 2019: Big Bin Event
Sep 7 2019: Outdoor Movie Night
Sep 7 2019: Big Bin Event
Aug 17 2019: Outdoor Movie: Avengers Endgame
Aug 10 2019: Annual Summer Carnival
Aug 10 2019: Fire Stations Open Houses
Jul 13 2019: Outdoor Movie: Pokeman Detective Pikachu
Jul 1 2019: Canada Day 2019
Jun 22 2019: Volunteer Weed Pull Event
Jun 22 2019: Outdoor Movie Night
Jun 21 2019: Nellie Carlson Celebrates
Jun 15 2019: Community Garage Sale
Jun 15 2019: Volunteer Weed Pull Event
Jun 8 2019: Outdoor Movie Night
Apr 11 2019: Provincial Election Forum
Apr 6 2019: I'm Too Big For It Sale - April 2019