News Archive
Family NYE 2017 Party & Fireworks
Update: New Year's Eve 8pm fireworks are still on but all other activities cancelled due to the cold.

The Ridge Community League is hosting their Annual Family New Year's Eve Party & Fireworks Show at Haddow Park on December 31, 2017 from 5 pm - 8:30 pm.
The event features sledding, horse-drawn sleigh rides (5 - 7:30 - come early!), cookies and warm drinks. Fun for kids includes snow-shoeing, bannock-making, and bring your toboggan!
Everyone welcome! Please bring a food or cash donation for the Edmonton Food Bank, and stay for the huge Fireworks Finale at 8:00 pm.
We really appreciate getting volunteers to help! Please email info@theridgeonline.ca to volunteer.
For details, visit The Ridge Community League on Facebook
Update: New Year's Eve 8pm fireworks are still on but all other activities cancelled due to the cold.
TCL 2nd Annual Holiday Spectacular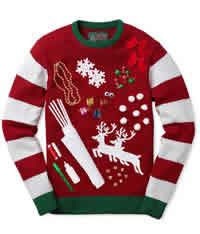 Date: December 16, 2017
Time: 5PM -8PM
Location: Terwillegar Community Church, 1751 Towne Centre Blvd NW
A new tradition started in Terwillegar last year; a festive gathering of the community with a visit from a right jolly old elf. Santa and Mrs. Clause will be dropping by to enjoy some holiday cheer, and of course discuss stockings with some engaged youngsters. There will be music and treats and trimmings galore, a letters to Santa station and even an indoor 'snowball' fight.
Most embarrassing holiday sweater contest: Wear your worst and you might come in first!
Gingerbread House Competition and Raffle: Build your best Gingerbread House and let the people decide. Top three will get great prizes! The houses will then be raffled off to as a fundraiser for the
Guess the number of ornaments: TCL will have a decorated tree up, and the person who guesses the amount of ornaments on the tree (or closest to) will be able to take home some extra holiday cheer.
Please join us for our last event of 2017 during the magic of the holidays.
Holiday Sale Table Applications
Now accepting applications for the Terwillegar Holiday Sale!! Only 50 tables available. Larger companies are allowed, but only ONE rep per company, on a first come first serve basis.
Vendors, apply here: https://goo.gl/forms/TIdmzAaSJ1MBWBX43
Applications will be checked every 24 hours.
See you at the event!
TCL Annual General Meeting
Please join us for the Terwillegar Community League's Annual General Meeting.
Thursday, December 7, 2017
7:00 pm
Terwillegar Community Church (1751 Towne Centre Blvd.)

Please email president@terwillegar.org if you have any questions about the meeting.
TCL Halloween Fireworks 2017
Join us on October 31st at Tomlinson Park at 8 pm for Halloween Fireworks.
Don't forget your costumes!
Recent Events
Sep 23, 2023: I'm Too Big for It Sale
Sep 16, 2023: Summer Movie Night
Aug 26, 2023: Summer Movie Night
Aug 12, 2023: TCL Summer Carnival
Jul 15, 2023: Summer Movie Night
Jul 1, 2023: Canada Day Event
Jun 10, 2023: Community Wide Garage Sale 2023
May 28, 2023: TRAC Community Run/Walk
May 17, 2023: Farmer's Market
Apr 15, 2023: I'm Too Big for It Sale
Feb 20, 2023: Family Day 2023
Feb 11, 2023: Snow Valley Ski Night
Jan 9, 2023: TCL AGM 2023
Dec 17, 2022: Snow Valley Ski Night
Dec 17, 2022: TCL Holiday Spectacular 2022
Dec 3, 2022: TCL's Holiday Craft Sale 
Nov 27, 2022: WEM Waterpark Event