News Archive
Terwillegar Video Game Championship
What you need to know:
Four rounds of video game mayhem – to crown Terwillegar's top gamer.
Each round will feature a different game to test a different skill-set – so make sure you brush up.
There will be a maximum of 64 participants in this year's field, with priority entry for those who provide a TCL membership number. No age restrictions; adults are welcome to be embarrassed by their younger peers.
Participants will need to be at the field by 8:30 PM to sign in, with games starting at 8:50 PM.
Game system and games to be announced ...
Famoso Fundraiser - Aug 18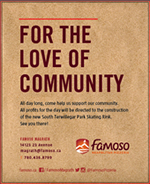 For the love of community ... Join us at the Magrath Famoso on August 18! All day long, come help us support our community. All profits for the day will be directed to the construction of the new South Terwillegar Park Skating Rink. See you there!
Summer Carnival 2016
Join us at the South Terwillegar Park on Saturday, August 13th from 11 am - 3 pm for our summer carnival, raising funds for the South Terwillegar Park outdoor rink!
$10 per kid, $20 max per family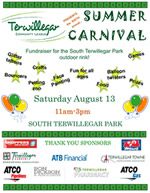 Gets you all of:
Hotdog, drink and chips for each kid
2 x balloon twisters
2 x face painters
2 x glitter tattoo artists
Nail painting artist
Petting zoo
Draws for over $500 in gift cards
Free handouts galore
Carnival games with prizes
Pony hop race
Bouncers
And much more being added every day! Come check it out, every dollar made will be used towards building the South T outdoor rink.
Rescheduled: The Force Awakens
Please note that our outdoor movie event showing The Force Awakens has been rescheduled to July 16th due to inclement weather.
I'm Too Big For It Sale - April 2016
The TCL Semi-Annual I'm Too Big For It Sale is back!
When: Saturday, April 2, 2016 from 10 am - 1 pm Where: Terwillegar Community Church – 1751 Towne Centre Blvd.
Tables are still available. To get a table please complete and submit a vendor application. View the application for more details and contact information.
Recent Events
Dec 31 2018: New Year's Eve Party & Fireworks
Dec 15 2018: TCL Holiday Spectacular
Dec 11 2018: TCL AGM
Dec 8 2018: Holiday Sale 2018
Dec 1 2018: Terwillegar Drive Expressway Plan
Nov 28 2018: Public Drop In - Terwillegar Expressway
Oct 31 2018: Halloween Fireworks 2018
Sep 22 2018: I'm Too Big For It Sale - Sept 2018
Sep 13 2018: Famoso Fundraiser
Aug 25 2018: TCL 8th Annual Summer Carnival
Aug 18 2018: Outdoor Movie - Avengers: Infinity War
Aug 16 2018: Famoso Fundraiser
Jul 28 2018: Outdoor Movie Night: Pitch Perfect 3
Jul 7 2018: Outdoor Movie Night: July 2018
Jul 1 2018: Canada Day 2018
Jun 23 2018: Outdoor Movie Night: TBD
May 4 2018: Outdoor Movie Night: The Last Jedi
Apr 21 2018: I'm Too Big For It Sale
Feb 19 2018: Family Day 2018