News Archive
TCL 2nd Annual Holiday Spectacular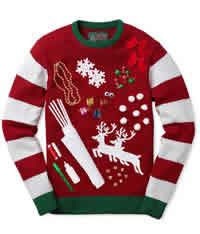 Date: December 16, 2017
Time: 5PM -8PM
Location: Terwillegar Community Church, 1751 Towne Centre Blvd NW
A new tradition started in Terwillegar last year; a festive gathering of the community with a visit from a right jolly old elf. Santa and Mrs. Clause will be dropping by to enjoy some holiday cheer, and of course discuss stockings with some engaged youngsters. There will be music and treats and trimmings galore, a letters to Santa station and even an indoor 'snowball' fight.
Most embarrassing holiday sweater contest: Wear your worst and you might come in first!
Gingerbread House Competition and Raffle: Build your best Gingerbread House and let the people decide. Top three will get great prizes! The houses will then be raffled off to as a fundraiser for the
Guess the number of ornaments: TCL will have a decorated tree up, and the person who guesses the amount of ornaments on the tree (or closest to) will be able to take home some extra holiday cheer.
Please join us for our last event of 2017 during the magic of the holidays.
Holiday Sale Table Applications
Now accepting applications for the Terwillegar Holiday Sale!! Only 50 tables available. Larger companies are allowed, but only ONE rep per company, on a first come first serve basis.
Vendors, apply here: https://goo.gl/forms/TIdmzAaSJ1MBWBX43
Applications will be checked every 24 hours.
See you at the event!
TCL Annual General Meeting
Please join us for the Terwillegar Community League's Annual General Meeting.
Thursday, December 7, 2017
7:00 pm
Terwillegar Community Church (1751 Towne Centre Blvd.)

Please email president@terwillegar.org if you have any questions about the meeting.
TCL Halloween Fireworks
Join us on October 31st at Tomlinson Park at 8 pm for Halloween Fireworks.
Don't forget your costumes!
Want to Join Our Board?
Terwillegar Community League board is seeking board members, if you're interested in joining our dynamic board, please contact the TCL president at president@terwillegar.org.
Recent Events
Dec 31 2018: New Year's Eve Party & Fireworks
Dec 15 2018: TCL Holiday Spectacular
Dec 11 2018: TCL AGM
Dec 8 2018: Holiday Sale 2018
Dec 1 2018: Terwillegar Drive Expressway Plan
Nov 28 2018: Public Drop In - Terwillegar Expressway
Oct 31 2018: Halloween Fireworks 2018
Sep 22 2018: I'm Too Big For It Sale - Sept 2018
Sep 13 2018: Famoso Fundraiser
Aug 25 2018: TCL 8th Annual Summer Carnival
Aug 18 2018: Outdoor Movie - Avengers: Infinity War
Aug 16 2018: Famoso Fundraiser
Jul 28 2018: Outdoor Movie Night: Pitch Perfect 3
Jul 7 2018: Outdoor Movie Night: July 2018
Jul 1 2018: Canada Day 2018
Jun 23 2018: Outdoor Movie Night: TBD
May 4 2018: Outdoor Movie Night: The Last Jedi
Apr 21 2018: I'm Too Big For It Sale
Feb 19 2018: Family Day 2018