News Archive
Rescheduled: The Force Awakens
Please note that our outdoor movie event showing The Force Awakens has been rescheduled to July 16th due to inclement weather.
I'm Too Big For It Sale - April 2016
The TCL Semi-Annual I'm Too Big For It Sale is back!
When: Saturday, April 2, 2016 from 10 am - 1 pm Where: Terwillegar Community Church – 1751 Towne Centre Blvd.
Tables are still available. To get a table please complete and submit a vendor application. View the application for more details and contact information.
TCL Holiday Lights Contest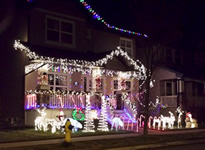 We will be recognizing homes that bring some great holiday cheer to the neighborhood. If you would like to participate or be an area captain, we will be handing out prizes followed by celebrations at Famoso on December 17th.
Please email our program director, Marc Lachance, directly, or post in the thread he started on our Facebook page.
TCL Annual General Meeting
The 2015 AGM will be held at 7:00 pm on Thursday, November 26th at the Terwillegar Community Church (1751 Towne Centre Blvd). Everyone is welcome!
Thank you, Casino Volunteers!
Thank you to everyone who volunteered their time to help out with our casino in June. Your help was greatly appreciated!
Recent Events
Feb 17 2020: Family Day 2020
Dec 31 2019: New Year's Eve Celebration
Dec 14 2019: TCL Holiday Spectacular 2019
Dec 7 2019: Great Canadian Winter Family Fun Festival
Dec 5 2019: Terwillegar Community League AGM
Nov 23 2019: TCL Holiday Sale 2019
Sep 21 2019: I'm Too Big for It Sale - Sept 2019
Sep 8 2019: Big Bin Event
Sep 7 2019: Outdoor Movie Night
Sep 7 2019: Big Bin Event
Aug 17 2019: Outdoor Movie: Avengers Endgame
Aug 10 2019: Annual Summer Carnival
Aug 10 2019: Fire Stations Open Houses
Jul 13 2019: Outdoor Movie: Pokeman Detective Pikachu
Jul 1 2019: Canada Day 2019
Jun 22 2019: Volunteer Weed Pull Event
Jun 22 2019: Outdoor Movie Night
Jun 21 2019: Nellie Carlson Celebrates
Jun 15 2019: Community Garage Sale
Jun 15 2019: Volunteer Weed Pull Event
Jun 8 2019: Outdoor Movie Night
Apr 11 2019: Provincial Election Forum
Apr 6 2019: I'm Too Big For It Sale - April 2019